HISTORIE
KING OF MORAVA
PAPRSEK / 9.3.2013

MCRS / KLINY
PRIMA COOL TENT / 2.3.2013
KID KOALA & TROUBLE TEAM

3.3.2013 / PRAHA

RANE & SERATO WORKSHOP

27.2.2013 / PRODANCE / PRAHA

MCR VITKOVICE / KRKONOSE

23.2.2013

SILENT DISCO

DOLSKA / SPINDLERUV MLYN
ROZHOVOR
RP QUESTIONS - DJ FRIKY
SILENT DISCO
FRYDEK MISTEK
ESF KLINOVEC 2013

16.2.2013

ENGADINSNOW 2013

TROUBLE TEAM / SWITZERLAND
APPOLO 2012
FRIKY FLINK & MARK FREETCHY
Videoscratchlivedrums Set
KLADNO MOO BAR

19.1.2013

Trouble Team on IDA 2012
END OF WORLD / FOOPAA / KARLOVY VARY

21.12.2012

BEAR PARTY / YES CLUB / PRAGUE

22.12.2012

IDA WORLD FINAL 2012
KRAKOW / POLAND / 8.12.2012

ZNOJMO / CAPPUCCINO BAR / 7.12.2012

PREMIERA FEW WORDS

PLZEN / BUENA VISTA / 4.2.2012

BRATISLAVA / Klub LOFT / 29.11.2012

SNOW WAY TOUR 2012
DJ FRIKY live mix on Radio EVROPA 2

22.9.2012

GHETTO/TRIP/HOP/REGGAE/FUNKY/BREAKS

NIGHTWORK DJ SUPPORT

1.11.2012 SASAZU / PRAGUE

KINOCLUB SMRZOVKA TONIGHT

UNIQUE8 / 18.10.2012

RETRO MUSIC HALL / PRAGUE

NI workshop Machine Mikro MK2

11.10.2012 Praha
Team Championship
Judges Results


DJ CRAZE - DMC WORLD CHAMPION
1. MIXFITZ
2. PHONA/BATTLESTAR MASSIVE
3. TROUBLE TEAM

DJ PRIME CUTS /SCRATCH PERVERTS - DMC WORLD CHAMPION
1. MIXFITZ
2. PHONA
3. CLA LESTE

DJ SWITCH – DMC WORLD CHAMPION
1. MIXFITZ
2. CLA LESTE
3. BATTLESTAR MASSIVE

DJ IZOH – DMC WORLD CHAMPION
1. PHONA
2. CLA LESTE
3. MIXFITZ

PRECISION - DMC USA CHAMPION/X-ECUTIONERS
1. MIXFITZ
2. PHONA/BATTLESTAR MASSIVE
3. TROUBLE TEAM

JEPPA - DMC UK CHAMPION
1. MIXFITZ
2. CLA LESTE
3. PHONA

TONY J KUT – DMC FRANCE CHAMPION
1. BATTLESTAR MASSIVE
2. CLA LESTE
3. MIXFITZ

LOWA – DMC CZECH REPUBLIC CHAMPION
1. MIXFITZ
2. TROUBLE TEAM
3. PHONA


DJ GILBERT – DMC PHILIPPINE CHAMPION
1. MIXFITZ
2. PHONA
3. CLA LESTE

YOKE – DMC PORTUGAL CHAMPION
1. MIXFITZ
2. BIGGER BANGER THEORY
3. CLA LESTE

POINTS 3 – 1ST PLACE, 2 – 2ND PLACE, 1 – 3RD PLACE


WORLD TEAM CHAMPIONS 2012

1. MIXFITZ (BELGIUM)– 26 POINTS
2. PHONA (FRENCH) – 13 POINTS
3. CLA LESTE (BRAZIL) – 11 POINTS
4. BATTLESTAR MASSIVE (USA) – 8 POINTS
5. TROUBLE TEAM – (CZECH REPUBLIC) 4 POINTS
6. BIGGER BANGER THEORY (PORTUGAL) – 2 POINTS
RETRO MUSIC HALL 3th ANNIVERSARY
VIDEOSHOWSCRATCHCASE

PROUDY 2012 / PRAGUE FESTIVAL
RED BULL SILENT DISCO STAGE

TRIPLE X SHOW PRAGUE

WORLD DMC DJ CHAMPIONSHIP 2012
27.- 28.9.2012 HMV FORUM /LONDON

PILSNER FEST
videoscratch show 31.8 a 1.9. 2012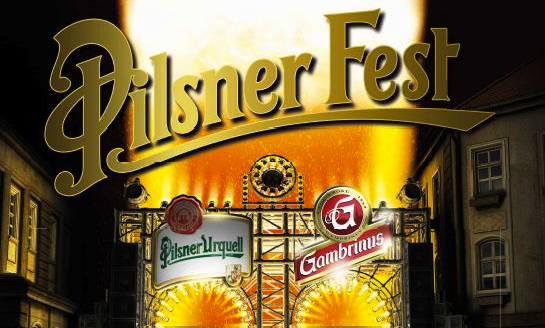 PATEK

SOBOTA
HIP HOP KEMP 2012
TROUBLE TEAM WARM UP WEDNESDAY 00:00-2:00

OPEN AIR FESTIVAL 2012
čtvrtek 24:00 EVROPA 2 stage
pátek/sobota 2:20 RED BULL TOUR BUS
program zde

LINE UP for this FRIDAY
HIGH JUMP 2012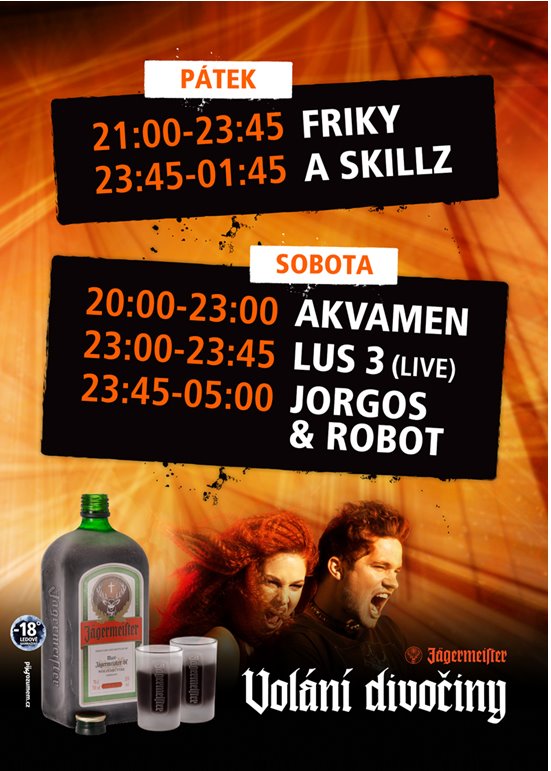 DANCE EXTRAVAGANZA 28.7.2012 / EVROPA 2

FATBOYSLIM Special & ELECTRODISCO
+
2 x Exclusive Friky Flink Remixes
FAT BOY SLIM MIX by DJ FRIKY

Don't let the man
The Joker
Love Life (feat. Macy Gray)
That Old Pair Of Jeans
I Left My Wallet In El Segundo
Long Way From Home
Weapon Of Choice
Mad Flava
Champion Sound
Pure Shores
Gangster Tripping
E.v.a. (Fatboy Slim Remix)
Don't Forget Your Teeth
Mi bebe masoquista
Slash Dot Dash
Praise You
Ya Mama
Sho Nuff
Apache
Illuminati
Michael Jackson
The Pimp
Right here, Right now
Fuckinh In Heaven
Renegade Master (Fatboy Slim Old Skool Mix)
Turbomen - Would You Say Thankyou If I Spank You?
Sunset (Bird of Prey)
Everybody Needs A 303
Give The Po' Man A Break
Kalifornia
Rockafeller Skank
DISCO ELECTRO HOUSE

Alesso - Raise Your Head (Milkman Remix)
David Tort vs. Giorgio Moroder - I Wanna Rock (Original Mix)
Deichkind - Leider Geil (Decalicious Remix)
Etienne Ozborne ft. Paula B. - Been A Long Time 2012 (Rio Dela Duna Remix)
I Am Sam - Blah! (Chris Arnott Remix)
Alessandro Carle - Fable (Original Mix)
Avicii feat. Salem Al Fakir - Silhouettes (Disco Fries Remix)
Brooklyn Bounce & Splash - Party Bounce (Dj Solovey Remix)
Chasing The Sun (D-velro Bootleg)
Dada Life - Happy Violence (Vocal Extended Mix)
David Guetta - The World Is Mine (DJ Zapad Remix)
Jeronimo - One Kiss
Joe Garston - Forever (Original Mix)
Julian Jordan & TV Noise - Oxford (Extended Mix)
Let The Music Play feat. UTRB - All I Can Give You (Norin & Rad Remix)
Maison & Dragen - Wet Dreams (Original Mix)
Micha, Lazar & Waveshock - He's Mine 2012 (Extended Mix)
R3hab & Swanky Tunes vs Hard Rock Sofa & Swanky Tunes - Sending My Love vs The Edge (R3hab Bootleg)
Sheikh feat. Nicco - Hold Tight (Funkwell Remix)
Urban Contact - Just Not Right (Original Mix) [
Timati feat. J-Son - Match Me (DJ Antoine vs. Mad Mark Remix)
Gabry Ponte Ft. Pitbull & Sophia Del Carmen - Beat on My Drum (Tacabro Remix)
Debbie - Sun Sun (Friky Flink Remix)
Drop The Hate (Remixed by Rev. H Lidbo & The Progressive Baptist Choir of Stockholm)
Major Force/Return Of The Original Art Form (Hirosi & Kudo feat. DJ Milo)
Mandrage - Mechanik (Friky Flink Remix)
KING OF THE ROCK
Praha / 21.7.2012 / After Zanzi Bar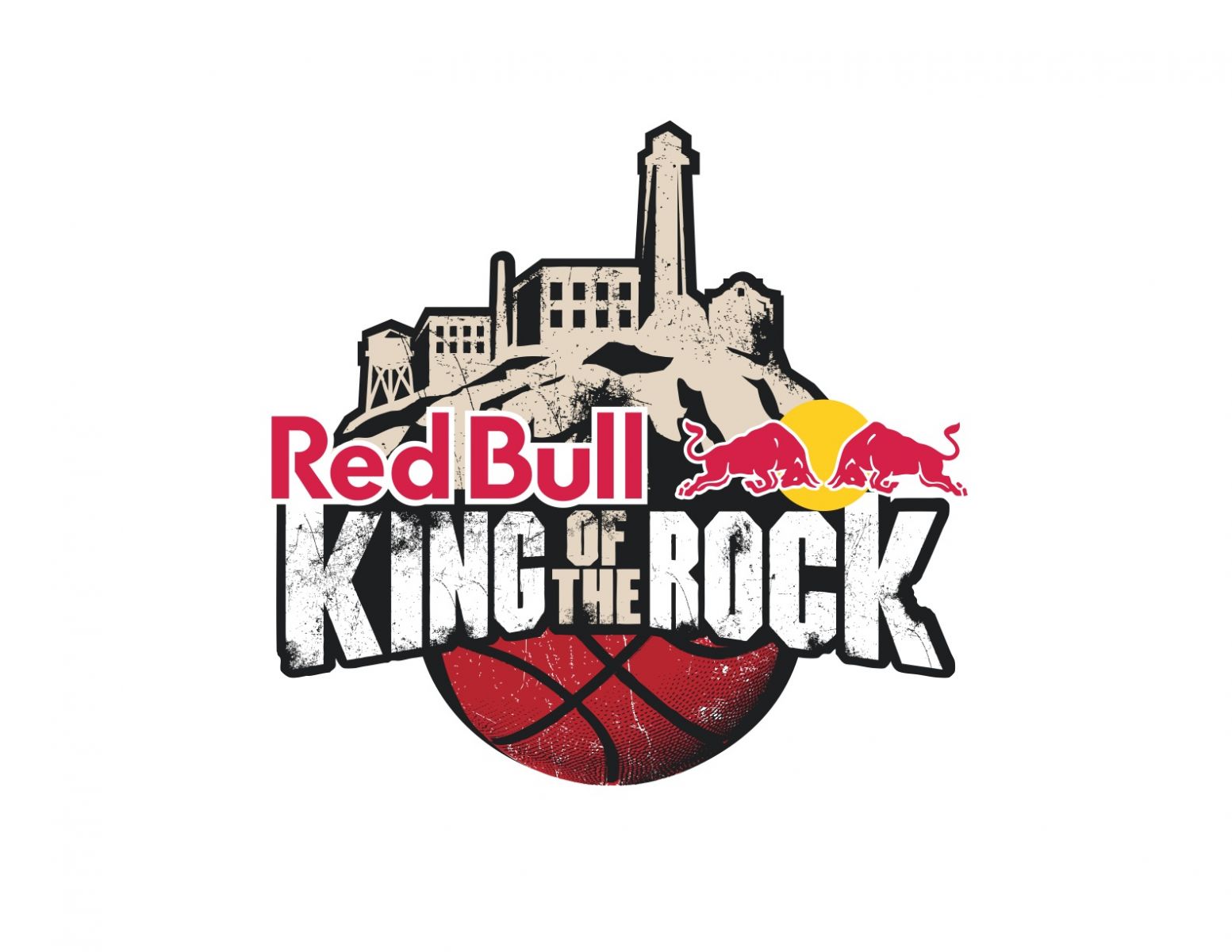 FRYDEK MISTEK
Little Island Bar 20.7.2012

Galerii NOVE BUTOVICE
PRAHA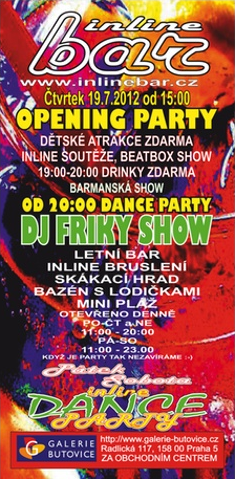 TINY BEAT beatbox champion 2012
&
Friky Flink DMC team champion 2012
Dollar Jam
MFFKV 2012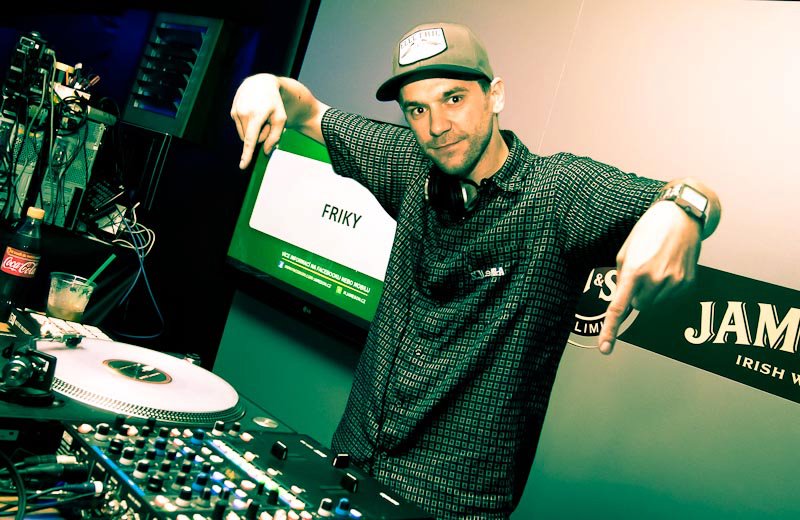 ROCK FOR PEOPLE
Red Bull Bus 22:25 more info here

OSTRAVICE / ADRENALIN CUP
program zde

CZ & SK DMC 2012 Team Champions / TROUBLE TEAM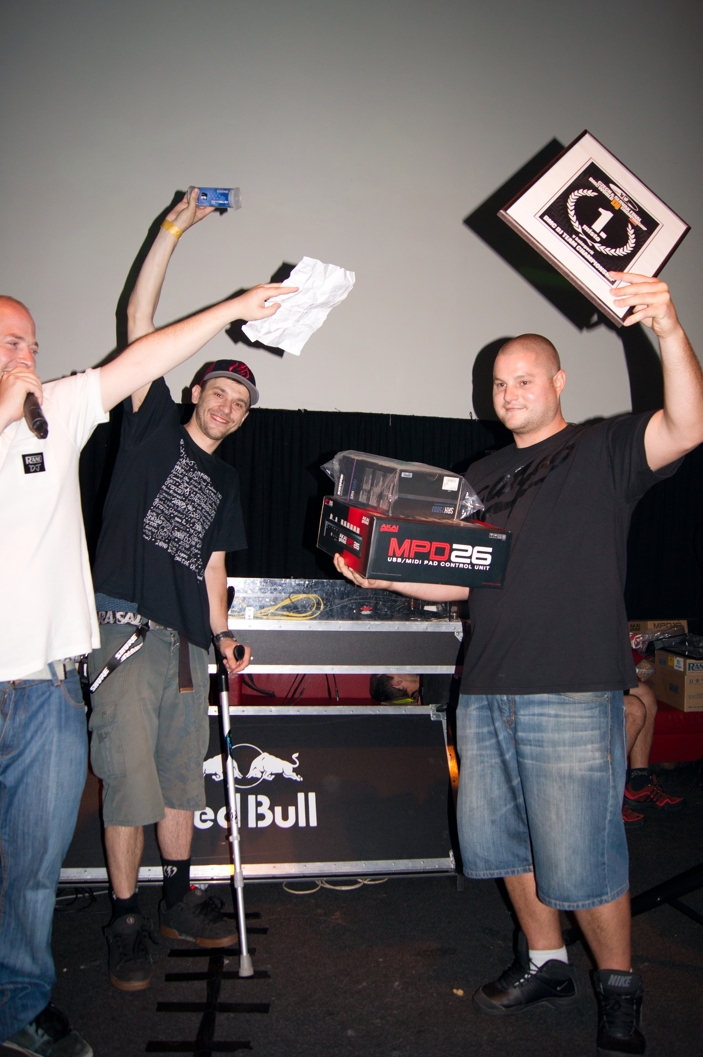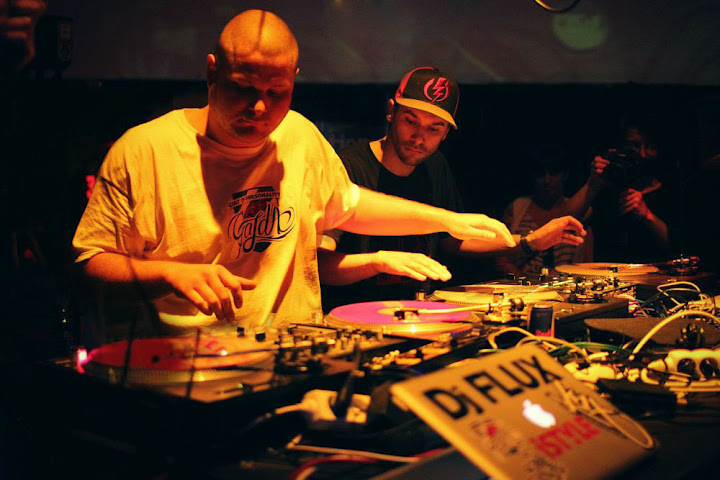 9.6.2012 DUBSTEP INVASION
HOF / GERMANY

FREE REMIX DOWNLOAD
BEASTIE BOYS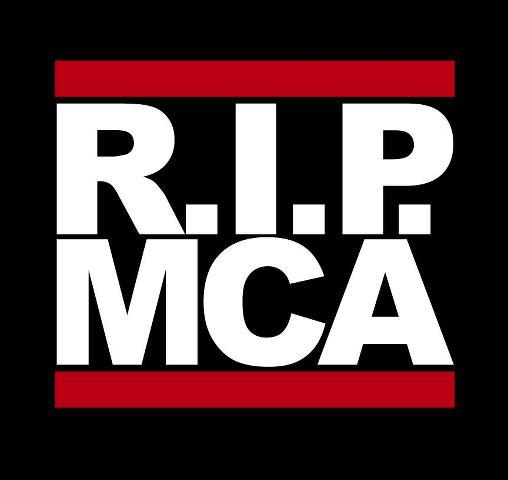 DJ Friky - I Can Be Your Freak
Republika square live routine
DJ ROCKSTAR & DJ FRIKY FLINK
SCRATCH AND TAP
TEPLICE / UNICO ME / LAZENSKA

FESTIVAL / Detskych domovu / OUT OF HOME
workshop / showcase

TABLEMIX MECHANIK
by DJ Friky
MANDRAGE Tour 2012
Video Flink / Skrillex
SNOW JAM 2012
ŠPINDLERŮV MLÝN this weekend

MATES & FRANTA / MANDRAGE feat. DJ Friky
MOJE KREVNÍ SKUPINA TOUR 2012

VIDEO FLINK SCRATCH SET
SEVERKA / PLZEN

CLASSIC URBAN DISCO feat VIDEOFLINK SCRATCH SET

SATURDAY PARTY with DJ MANIAC
HOF / GERMANY

ENGADINSNOW 2012 10th anniversary
St. MORITZ / Swiss
TROUBLE TEAM EXHIBITION

DJ BATTLE TIME TONIGHT
MIKE ONE vs. FRIKY
30. HIP HOP FOUNDATION


PIECE OF MY SHOW ON RADIO BONTON
25.11.2011 by DJ FRIKY
SILVESTR NA HORÁCH
DEŠTNÉ V ORLICKÝCH

POSLEDNÍ MEJDÁNEK ROKU 2011 NA LÁVCE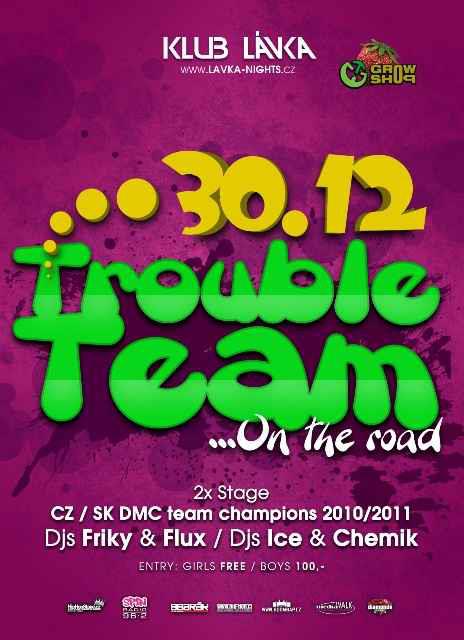 MUJ ČLOVĚK HLOD SLAVÍ NAROZKY
KAMENICE RULEZ

SOBOTNÍ FUNKY MEJDANEK V PRAZE

KLUB INSPIRAL 10 let od založení
DJ FRIKY 10 let ve hře / DJ FRIKY 10 years in the game

3.12. 2011 O2 arena FMX GLADIATOR GAMES
DJ FRIKY feat. GLADIATOR LIVE BAND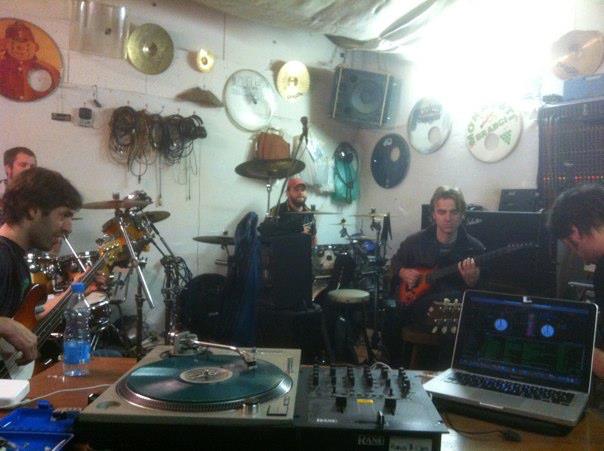 MINI ROZHOVOR S DJem FRIKYm zde!!!!
VIDEOFLINK PRAGO UNION SHOW
LUCERNA MUSIC BAR 17.11.2011
BOUNCE THE TOP / ŽIŽKOVSKÁ VĚŽ / PRAHA
VIDEOFLINK SCRATCH TOUR 2011

VIDEO FLINK MEET FACTORY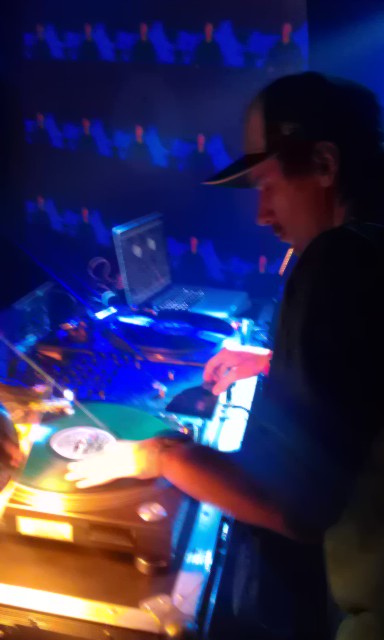 VACATION PARTY / RADOST FX / PRAHA
VIDEO FLINK SCRATCH TOUR

PRAGO UNION 16.11.2011 LMB / PRAHA
VIDEO FLINK SCRATCH TOUR

TONY 77 SASAZU 16.11.2011
VIDEO FLINK SCRATCH TOUR

PEPE MOVIE / MEET FACTORY
VIDEO FLINK SCRATCH TOUR

BRATISLAVA / ART OF FLIGHT
VIDEO FLINK SCRATCH TOUR

VIDEO FLINK SCRATCH TOUR 2011

Na konec roku si pro vás FRIKY FLINK připravil speciální audiovizuální chuťovku! Těšte se na hodinu a půl trvající DVJ showset – VIDEOFLINK SCRATCHTOUR. V jeho eklektickém hudebním stylu, za pomoci VIDEO SCRATCHE (RANE TTM 57 a SERATO), předvede mix svých vlastních vizualizací, střihů, ale také hudebních videoklipů. To vše bude proložené jak jinak něž remixy, videoefekty a turntableismem. V reálném čase tak na několika místech ČR a SK umíchá specifický mejdanový zažitek, v našich zeměpisných šířkách jedinečný.

DJ FRIKY :
Zavedený rozjížděč pražských parties, ale i mnoha akcí po celé republice, Dj Friky in da house!
Více než sedm let ho můžete vídat za gramofony, kde hraje svůj svěží mix urban muziky plné funky vibrací, které doprovází svým precizním skrečováním. "Vždycky mě hrozně fascinovala veškerá zajímavá hudba a nejokrajovější v té době byl hip hop, kde také djing měl tu nejdrsnějši formu – turntableism. Pořad YO! MTV RAPS 1994-95 inspiroval asi hodně lidí, tam jsem to všechno asi viděl poprvé," prozradil v rozhovoru třicetiletý DJ, který pochází z Horního Slavkova a s hraním začal v západočeské Plzni. Dnes patří k nejlepším turntablistům v Česku a jeho sety můžete kromě prvotřídních parties slyšet třeba i z éteru rádií Evropa 2 nebo Bonton.
zdroj: CZ a SK MTV
Jen pro úplnost doplníme, že FRIKY je s TROUBLE TEAMem držitelem DJského titulu CZ a SK DMC TEAM Champion 2010 a 2011, na světovém finále 2011 obsadili 6 místo.
TROUBLE TEAM na RED BULL / SOUND CLASH
PRAHA / LUCERNA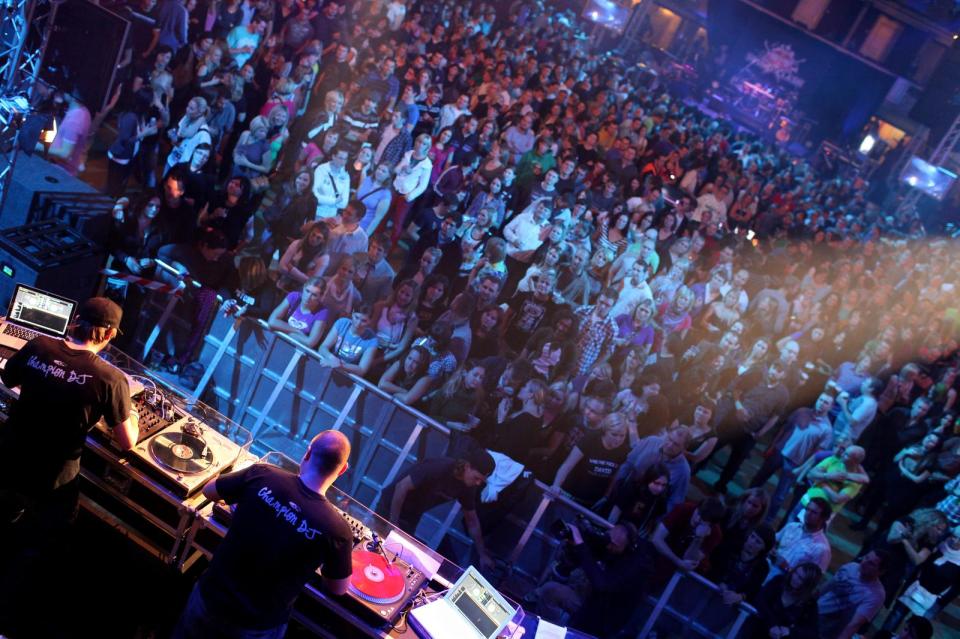 PRODANCE / WORKSHOP / VIDEO SCRATCH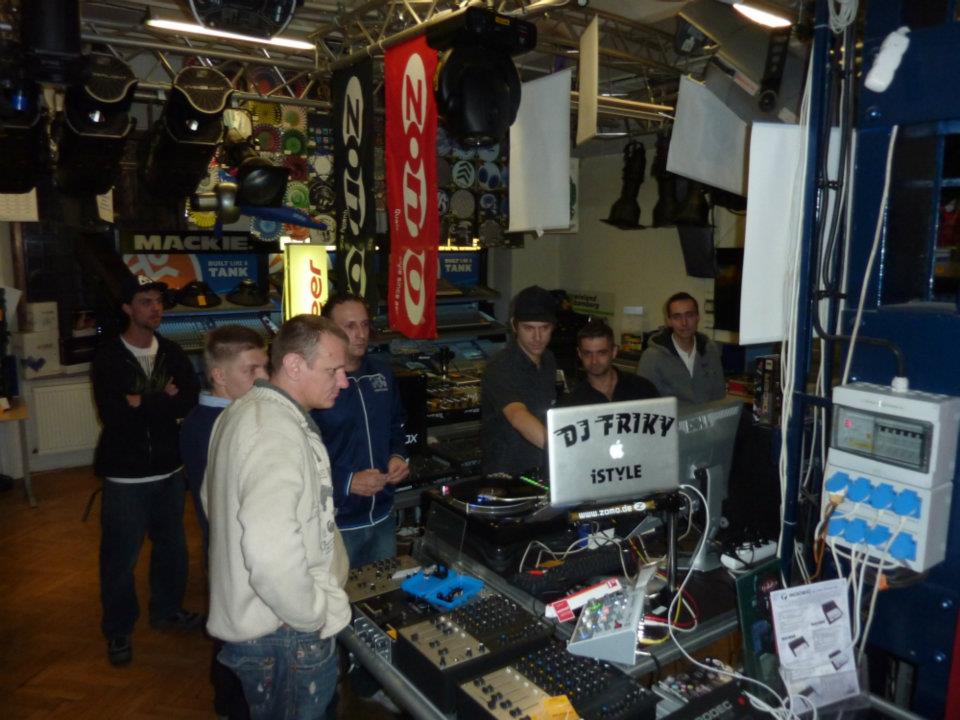 TROUBLE TEAM & BEAT BURGER BAND exhibice na
RED BULL SOUND CLASH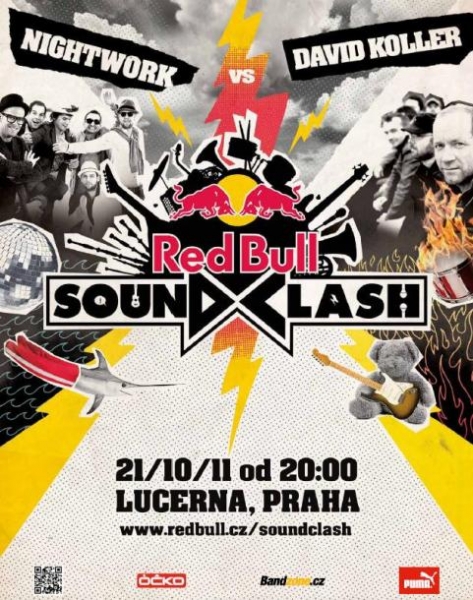 TEASER CZ and SK DMC 2011
TROUBLE TEAM
2011 DMC TEAM FINAL

DMC WORLD DJ CHAMPIONSHIP 2011
LONDON Indigo O2
TROUBLE TEAM / DJ FRIKY a FLUX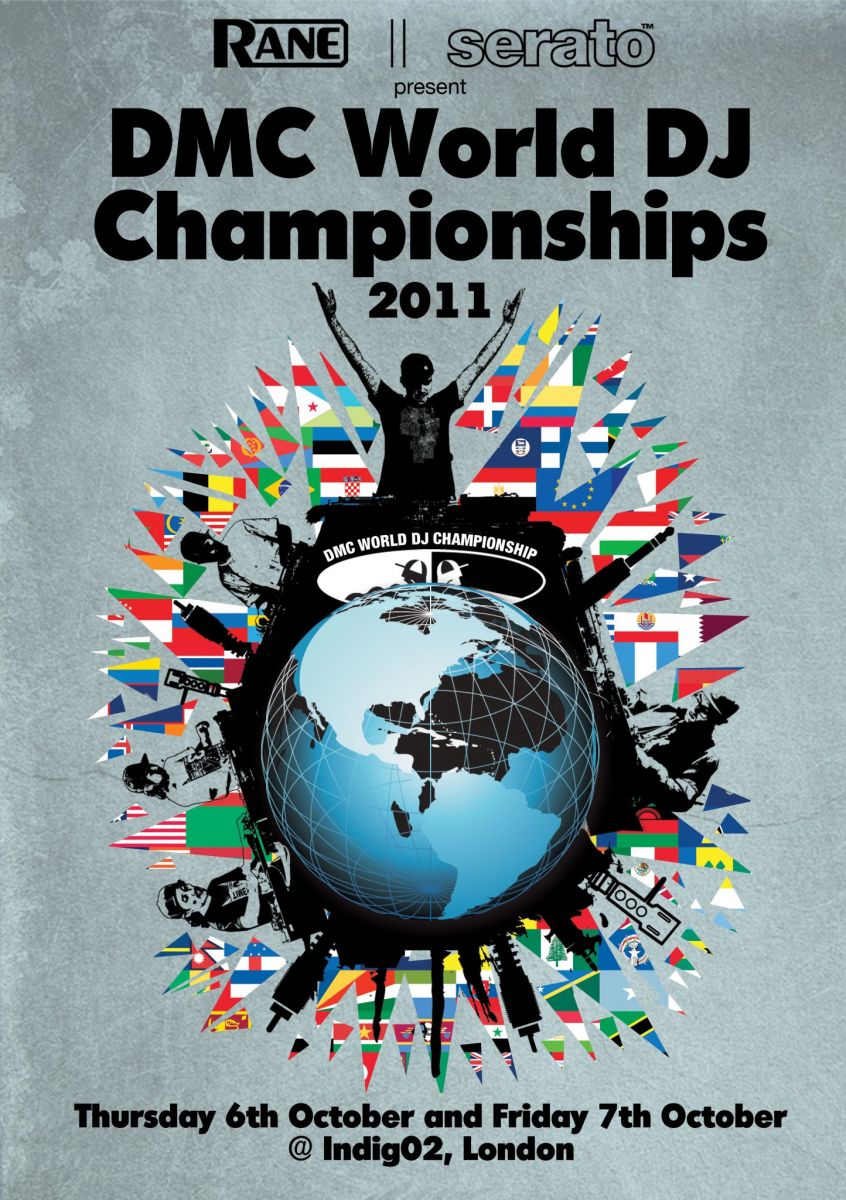 PRODANCE / DEMO 3
RANE / VIDEO SCRATCH LIVE WORKSHOP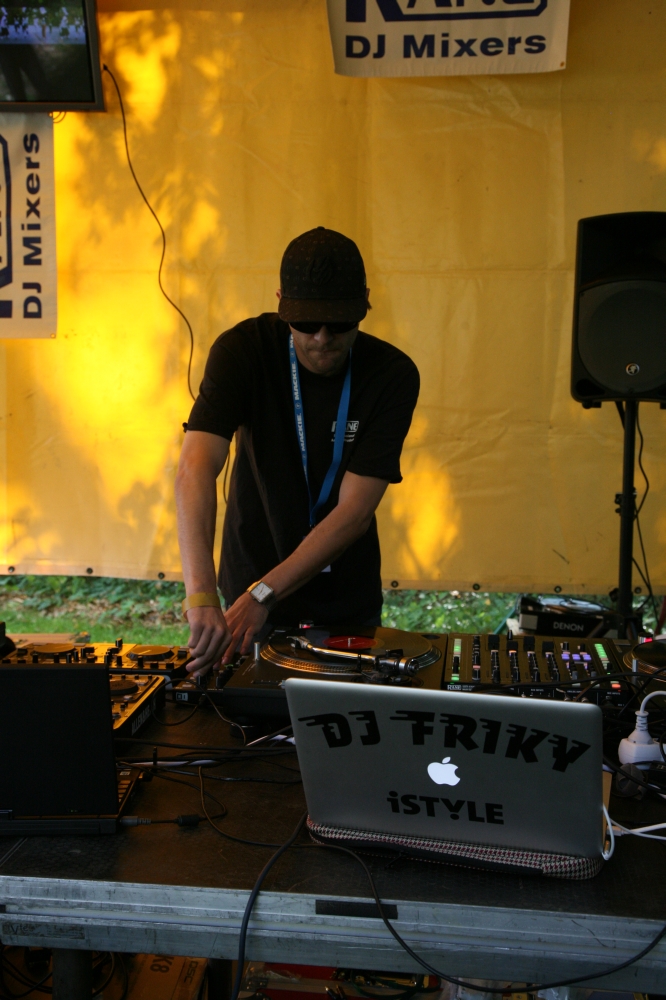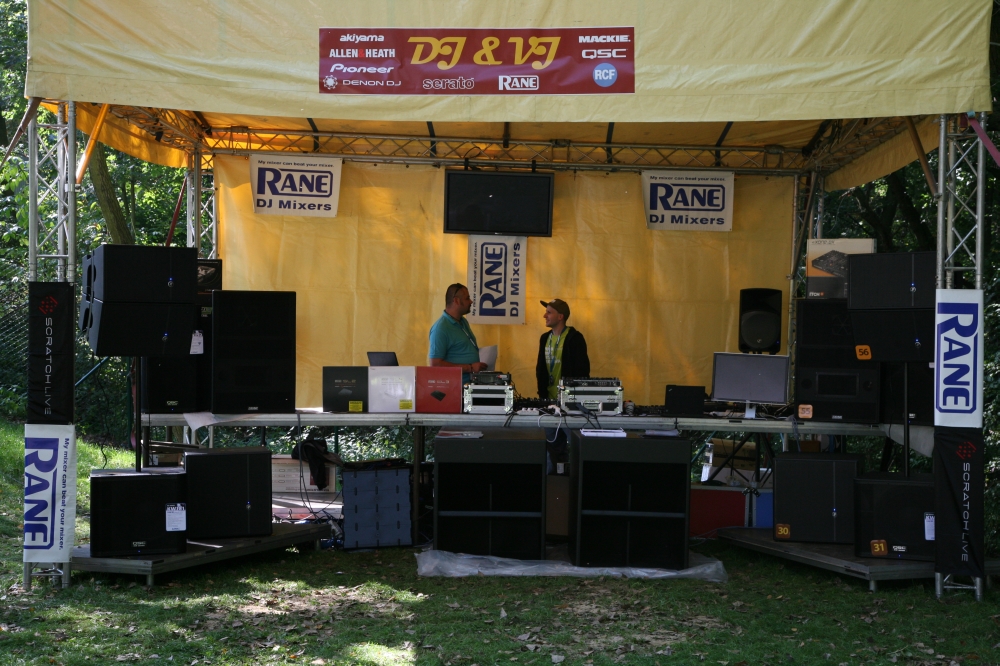 RED BULL / ART OF CAN MUSIC PROJECT
22.9.2011 PRAHA


VIDEO SCRATCH SHOW by DVJ FRIKY FLINK
17.9.2011 ROXY/PRAHA

RAY CHARLES audio/video DnB remix

SKRILLEX a MARTY intro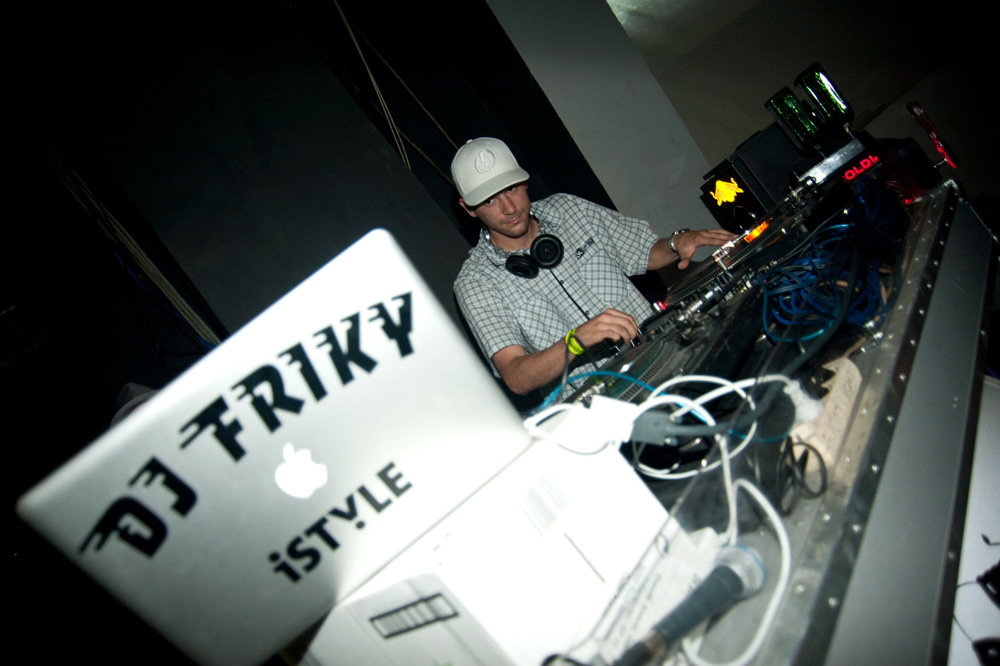 powered by Prodance, Istyle.cz, Red Bull, Jagermaister, Salebra, Electric, DVS
FRIKYHO NOVÝ POŘAD NA RÁDIU BONTON KAŽDOU NEDĚLI OD 20:00

TROUBLE TEAM (FRIKY a FLUX)
MOO BAR KLADNO

TROUBLE TEAM (FRIKY a FLUX)
TONIGHT / 2 PATRO / PRAHA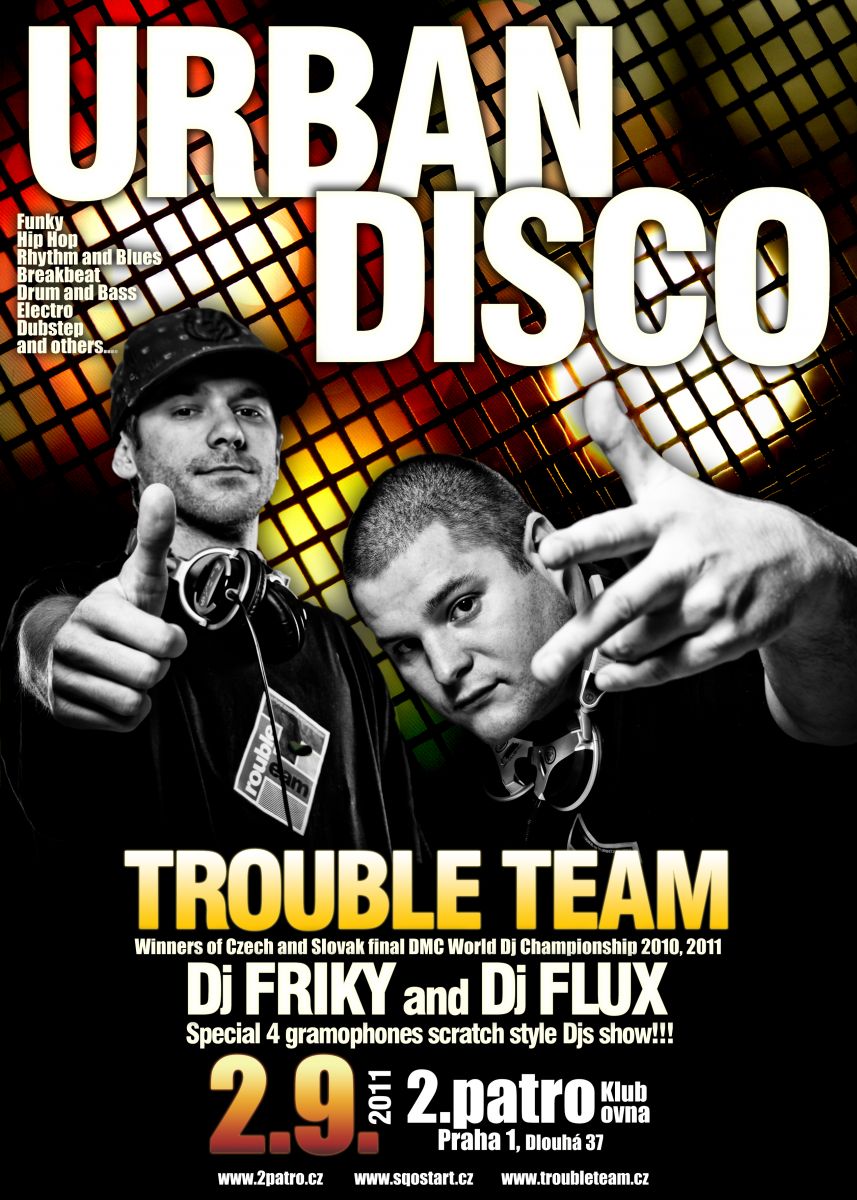 DJ Friky - je dle našeho názoru v současnosti jeden z nejlepších DJs u nás. Tenhle třicetiletý DJ se prohrál díky svojí píli, talentu a tvrdé práci z Horního Slavkova až mezi absolutní Djskou špičku. DJing je neoddělitelnou částí jeho života už osm let a na svoje první gramce si jel vydělat do Washingtonu D. C., což mluví o jeho nasazení a odhodlání od samého počátku. Jeho první deskou byl vinyl Def Jef a zásadně ho ovlivnilo, to že mohl hodně zblízka sledovat dění kolem "DMC final US 2003", nejslavnější Djské soutěže vůbec, kam se loni vrátil už jako účastník světového finále za Champion CZ&SK DMC Team 2010 a 2011 reprezentovat české barvy v Londýně. Společně se svým parťákem a spolubydlícím Djem Fluxem hrají pod jménem TROUBLE TEAM a šíří nejen po česko-slovenských luzích a hájích slávu a umění pravého Djingu a turntablismu a pokud je někdo jedním z nejvýraznějších a nejlepších reprezentantů technického Djingu u nás, je to právě DJ Friky, který má za sebou i moderátorskou zkušenost na již neexistujícím Radiu DJ, kde měl vlastní pořad Ranní Škrábání. V součastnosti ho můžete slíchat na radiu EVROPA 2 v pořadu DANCE EXXTRAVAGANZA. Za svou osmiletou karieru DJe hrál na rozličných místech od Washinghtnu D. C. přes Kosovo, až po Svatý Mořic, kde si zahrál ve výšce 3300 nad mořem. Jeho posledním velkolepým představením bylo hraní na listopadových FMX Gladiator Games v O2 Areně, přenášených nejen Eurosportem. Jsme si víc než jisti, že o DJovi Frikym toho ještě hodně uslyšíme a má své největší úspěchy ještě před sebou, protože po pražských dlažbách chodí jen málo lidí, kteří přistupují k hraní s nezvyklou pokorou, skromností a nevšedním nasazením a k tomu vlastní ještě nemálo talentu. Takže pokud chcete slyšet Frikyho multižánrový set plný skretchů a chcete na vlastní oči vidět, že v Čechách máme skvělé a kvalitní Djs, doražte se na Frikyho podívat.
zdroj: Chapeau Rouge